Flex - little black book
As an IT guy, when you are going out, there is only one big problem, all the girls are hitting on you!
So to keep track of all this data and to further clarify what my last post was about I came up with the little black book. Technically it mostly demonstrated the mixing of ActionScript and MXML, with the code behind pattern and declaring ActionScript domain models as mxml.
Everything else depends upon databinding.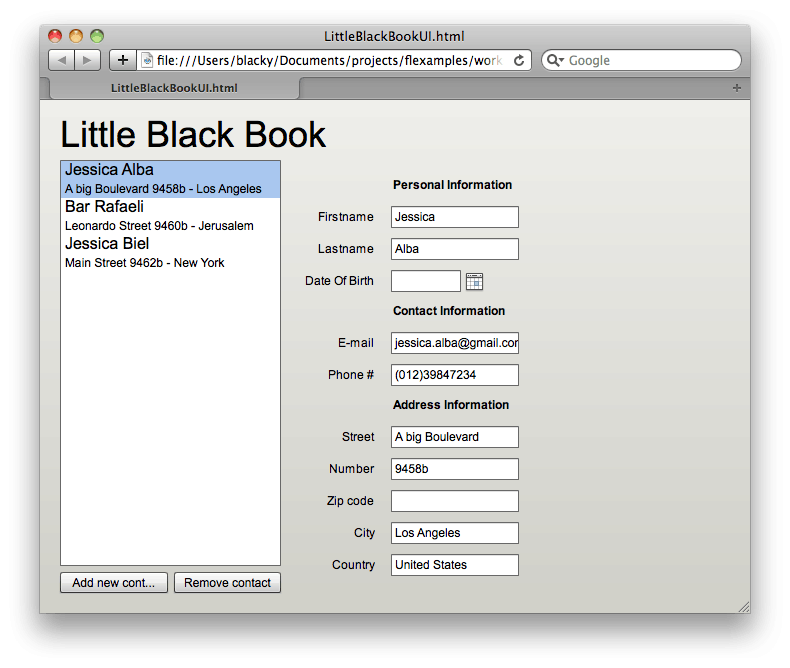 If you want some more technical background read my previous post, and to view the source, just right click the app and click view source.
More coming soon!
05-'10 Walks like a duck, talks like a duck

03-'10 Flex - the basics & databinding
Comments
---
Haha, nice! One tip: I always keep track of when certain people have tests and so on. That way you can wish them luck before it, often followed by a 'Wowww you remembered that? That's soooo sweet'. Warning: do not keep track of too much, else she'll probably respond like 'Ewww stalker'.
So if you could build 'sweet that you still know that'-tracking into it, it would very much benefit the single people among us
On a serious note: It really looks like cool stuff. I see you just started, or at least that's how I perceive it, very nice!
---
Hmm, krijg ik een melding van mn flash plugin, nadat ik zonder een persoon geselecteerd te hebben op remove druk:
code:
1
2
3
4


RangeError: Index '-1' specified is out of bounds.
    at mx.collections::ListCollectionView/removeItemAt()
    at be.hofmans.littleblackbook::LittleBlackBook/removeContact()
    at be.hofmans.littleblackbook::LittleBlackBookUI/___LittleBlackBookUI_Button2_click()
Verder erg netjes gedaan!
---
@roy.ahuis: I've already did some Flex development in the past, I just want to promote this technology a bit more. But it's true that I just started blogging and I really want to take things to the next level.
I might add some of your suggestions for the next post
@hafkensite: thanks, I've fixed the issue.
Btw this will probably never become a real fully worked out application, but it will serve as an example for some of the future blogposts.
---
---
Definitly rating, you want to keep track of the lady's who score high. (and definitly an order by hotness!), foto rating is good, but then the foto rating is albeit a good id, women tend to notice you taking pictures of them. And without the picture you have the "Every time I look at you, you are more beautiful" sentence which in my experience has a very high successrate (69 out of 70 times)
---
Comments are closed